Swim Lessons
Swim Lessons provide important life skills that could save a life, and will benefit you for a lifetime.
All YMCA swim instructors are highly trained in our nationally recognized swim lesson curriculum. To ensure safety at all times all of our pools have a certified lifeguard on duty.
Swim Lessons:
Swim lessons are available for youth and adults in semi-private or private sessions which are available year round.
Semi-private lessons are for groups of 2-3, children or adults, who are more comfortable in smaller settings.
Private lessons, the Y places swimmers with qualified instructors who work with individuals schedules.
Parent Child Swim Lessons (6 months-36 months)
These classes are designed to encourage children to experience, explore, and test the aquatic environment by responding with body movements and emotions with the assistance and encouragement of their parents. This class requires an adult to be in the pool with each child for the lesson.
Parent Child Swim Lessons (3 years-5 years)
These classes are to encourage 3 to 5 year olds to become comfortable and confident in the pool. This class requires an adult to be in the pool with each child for the lessons.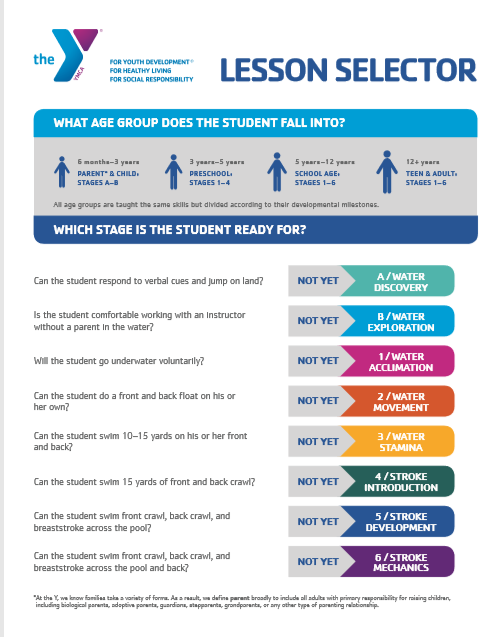 On line registration available.
Once your on line registration has been set up an instructor will call you to set up lesson times.
Private Swim Lessons Stages 1-6 
Stages 1-6 will be taught with one on one instruction.
Cost:
30 Minute Classes
Members:
3/$33.00 6/$66.00 8/$88.00
Non Members:
3/$45.00 6/$90.00 8/$120.00
Scheduled:
Monday-Thursday
Registering for a Private Lesson
Interested participants must fill out a private lesson registration form at YMCA. Lessons are scheduled based on instructor and participant availability as well as pool scheduling. The first lesson the instructor will evaluate the participant at the start of the lesson. Once your form is submitted, you should be contacted by the Swim Instructor within 5 business days.
Refunds/Cancellations
Cancellation of a private swim lesson requires a minimum notification and can be rescheduled for a make-up lesson. If a 4 hours cancellation notice is not given the swim lesson will be canceled and will NOT be made up. If the instructor does not show but the patron does, the patron is given an extra lesson at no cost.
---
Registration Information
| | Open | Close | Register At | Member | Non-Member |
| --- | --- | --- | --- | --- | --- |
| | 5/29/20 | 12/31/25 | Online / Front Desk | $ 33.00 | $ 45.00 |
Available Sessions
Date(s)
Special Rate

01/18/21 - 12/31/25

1 Review Lesson

$11 - $15
Register

01/18/21 - 12/31/25

3 Swim Lessons

$33 - $45
Register

01/18/21 - 12/31/25

6 Swim Lessons

$66 - $90
Register

01/18/21 - 12/31/25

8 Swim Lessons

$88 - $120
Register

04/01/21 - 12/31/25

Parent Child Swim Lessons

$40 - $60
Register

04/01/21 - 12/31/25

Semi-Private Lessons

$60 - $90
Register